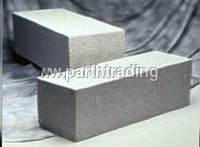 CLC Partition Block
Product Description
CLC Partition Block is highly appreciated for being completely environment friendly in nature with lightweight. It has been made using advanced machines so as to assure utmost dimensional & structural precision. This block is used for green construction, making floors, and for waterproofing & roof insulation. It is greatly admired for showing good thermal stability & sound insulation. CLC Partition Block does not absorb much water hence reduces chances of cracks in walls. It is also considered to be perfect for laying foundation for having ability to reduce load. This cellular light weight concrete also has good fire and earthquake resistant properties.
CLC Partition Block

Features OF CLC Partition Block

Light Weight

Being light weight CLC blocks reduces the load on foundation and structures resulting in steel & cement savings.
High Thermal Insulation
Low thermal conductivity
Thermal performances 5 times better than clay bricks, 10times better than concrete bricks and RCC
Interiors remain cool in summer and warm in cold winter
Savings in energy cost in air-conditioning.
Ideal for applications in cold storage room walls.
Water Absorption
Cellolite clc blocks has a high structural integrity where the water absorption is very low and water resistance is very high comparing with clay bricks & other concrete products.
Good Sound Insulation
Upto 37–42db sound reduction based on thickness.
It is possible to achieve higher values depends with thick plastering.
Can fulfill required STC(sound transmission class) rating.
Reduction of Dead Load
Light weight
1/3rd the density of clay bricks.
Economic design: savings in cement and steel.
Enables faster construction.
Suitable for low soil bearing capacity and seismic zones.
Facilitates construction of unplanned walls anywhere anytime.
Fire Protection
Cellolite (clc) Blocks offer a great fire protection.
With 100mm thick and 1000kg/m3 density Cellolite (clc) Blocks offers fire endurance for heat transmission for 4–5hrs.
No toxic fumes released during fire transmissions
Enhances Carpet Area
As an engineered Cellolite (clc) Block, it can be offered in any thickness as per the construction design.
By using Cellolite (clc) Blocks in the place of clay bricks customer gets an additional 2-3% carpet area.
On account of additional carpet area the savings is gained more than that of with clay bricks.
Other Advantages of CLCBlocks
Accurate size and shapes helps in reducing plastering cost.
Better finishing of walls.
Eco-friendly.
Less co2 release.
Less heat absorption.
Speedy construction.
Ease of workability.
Universal acceptability.
Resistant to insects and pests.
Can be cut, swan, nailed and drilled easily.
Reliable with quality consistency.
All seasons availability
Contact Us
Plot No- 154, Marketing Yard, 0, Dhrangadhra Road, Dist Morbi, Halvad Gujarat India +918061882368
Phone :+918061882368